Your brand is the particular element of your practice that sets you apart from your competition.
No matter how strong your marketing materials are, they will fail to generate adequate returns if you haven't first developed your dental brand. The reason for this is simple: Your brand establishes your identity and sets you apart from your competition. If you don't stand out, it's nearly impossible to continue generating the long-term growth and revenue increases that you would like to see.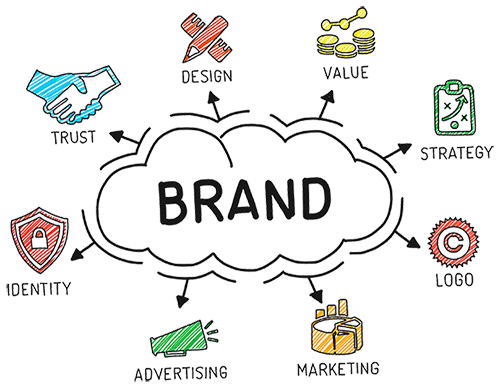 In today's marketplace, potential patients are bombarded with an avalanche of choices between franchises, corporations, low-cost clinics, and services from full-service dental practices located in your community. In nearly every instance, the differentiators they advertise are products and cost. Potential patients confronted with these pitches have learned that they can find what they want at a cost they believe is fair - which means they're seeking something more.
Potential patients aren't simply looking for their next dental practice; they want to identify with your dental practice brand. In other words, clients want to understand who you are and the benefits you can provide for them.
Your Brand is Your Image
Your brand is the image that defines you and your dental practice. It conveys the value your clients receive by doing business with you. If you fail to define the brand of your dental practice, your promotional efforts will be ineffectual; instead of resonating with patients, your name will be lost in the white noise of the many other practices advertising dental services and competitive pricing.
Establishing Your Dental Practice's Brand
Marketing is about selling an image to potential clients. Branding is about creating that image. This is an important point, because it means that before engaging in any dental marketing campaign or creating promotional material for your dental practice, you must first establish your brand identity.
The biggest mistake practice owners make is equating their brand with the services and products they offer. Your brand is not the services or products you offer, nor is it your marketing campaign. Your brand is the unique personality of your practice, your employees and you.
Your brand is what you stand for and what you represent. It's the enduring image your clients carry with them after they leave your dental practice.
To develop a concept of your dental brand, reflect on your practice. Look beyond your equipment, instruments, computers, furniture and focus on the bigger picture. Ask yourself what truly sets you apart from your competition. Ask your employees what makes your practice unique, the benefits you offer, and how they contribute. Ask your friends and clients what comes to mind when someone mentions the name of your dental practice.
After you have thought about your image, compile a list of features that make your practice unique. Use this information to develop a practice mission statement. From your mission statement, create a short phrase about the benefits your dental practice provides, not the services that you offer.
Examples of Features That Contribute to Your Brand
Involvement in the Community – Free Dentistry days, speaking at local events and schools, sponsoring events & more
Regular Blog Postings with Local News
Punctuality – Guaranteed Minimal Wait Time
On-Call Dentist for After Hours Conversations
Complete Cost Transparency
Minimal Employee and Dentist Turnover
Good Specialist Referral Network
Knowledgeable, Well-Trained and Informed Receptionists
Patient Lost and Found
Weekend Hours
Most dental practices list their services in their marketing materials. Don't make this mistake. Patients want to know how your practice and its services make their lives and their patients' lives better.
"Personalized Care Through Your Patient's Ages and Stages" or "Providing House Calls, Transportation Services and Convenient Hours" is a far more effective marketing phrase for a dental practice than "We are a full-service dental practice."
Your Practice Colors and Architectural Design
Conveying your brand is more than just what you say on your website or the text on a direct mail piece. Every element of your practice's marketing effort must be aligned with your dental brand.
Colors are important visual cues that create strong mental images in peoples' minds. Consider the red of a Coca-Cola can or brown with UPS. These colors are thoroughly associated with the companies' brands. They also appear in all their marketing materials with consistent messages such as "Have a Coke and a smile," or "What can Brown do for you?"
The colors you choose for your practice's brand are crucial for expressing the tone of your practice and should be linked with your message. Your brand colors should also set you apart from other dental practices, integrate within the dental industry and create a positive image of who you are.
Branding includes aligning the architectural design, layout, color choice and materials used for your practice with your image and message. Reinforce your brand at each touch-point with your clients, so they carry it with them and describe their patient's dentist in those terms when talking to friends and family.
Your Dental Brand is Established. Now Go Work with It.
Once these components are in order, you have established your practice's brand. Now you need to raise awareness of it. This is where your marketing tools and a cohesive marketing strategy come into play. If you have a logo, website or brochure and they do not represent your brand, have them redesigned so they do. This may not be as difficult or expensive as you think, but it is critical.
Your dental practice's brand instills confidence and creates loyalty among patients. With a favorable brand and well considered marketing measures, you are better equipped to attract new clients from today's savvy and discriminating patients.