VivioSites knows how to make social media work for your dental practice, so you see results.
Word of mouth has gone digital. With over 70% of referrals coming from social media, it's time your practice joins the more than 2 billion monthly active users spending time on Facebook, Twitter, Google Plus, and WordPress.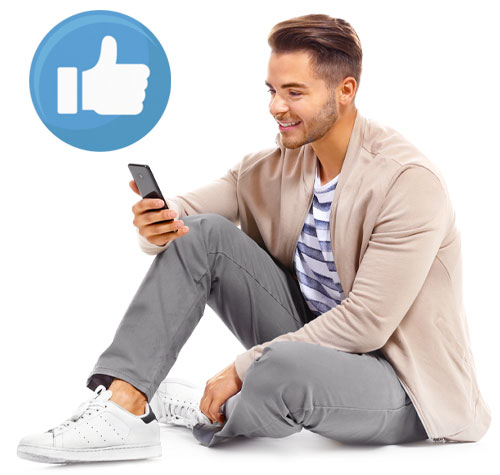 When used properly, social media is the perfect platform for your practice to engage with your community and reach both current and potential patients online. Interesting posts that generate "likes", shares, and comments are seen not only by current patients, but also by their friends and family. In other words, you gain a new, large and local audience!
Strategic, well-thought out posts and updates relevant to the patients in your community enhance relationships, build trust, and create dialogue—all of which will bring people through your door, strengthen your client base, and increase your revenue.
If you're interested in increasing patient referrals and attaining more shares and comments, give us a call at (800) 227-2513 today! You can also contact us here.
See What Active Digital Marketing Can Do For Your Practice
Our fresh, unique content gets posted to your Facebook, Twitter, and Google Plus pages 3 to 5 times per week and has proven to:
Increase Referrals
Each time a patient 'checks in' to your practice or engages with a post, they are publicly broadcasting, "This is the dentist I know and trust!" to all of their followers.
Increase Website Traffic & Appointment Requests
Your social media channels point visitors to your website, increasing traffic and appointment requests.
Reduce Patient Attrition
By engaging your patients' multiple times per week, you build relationships with them and greatly reduce the chances they forget about their appointments or change dentists.
Boost Search Engine Rankings
Fresh content from these high-quality backlinks improves your search engine rankings.
Build Brand Awareness
Being a consistent source of knowledge and entertainment attracts interest and reinforces familiarity with your practice.
Social Media Platforms
Facebook
Powerful and inexpensive, Facebook can help you directly interact with clients and potential clients while simultaneously spreading the word about your clinic's care and services.
Twitter
With its sizable online community, Twitter helps you communicate directly with your clients in real time and allows you to react quickly to clients' questions and needs. It allows for instant updates on promotions and initiatives, blog entries, and other news of your practice.
YouTube
YouTube reaches more US adults ages 18-34 than any cable network. This popular online venue allows you to interact with clients through instructional videos, tutorials, and a video tour of your clinic. Clients love to see you demonstrate patient care techniques through video and this platform allows you to educate your clients on patient care topics with authenticity and, if you choose, humor.
Although actual posts and updates require only minutes a day, commitment, and an understanding of how dental social media fits into your larger marketing strategy is essential to realizing the platforms' full benefits. An ad hoc, inconsistent social media presence can harm your dental practice's image more than it helps.
VivioSites offers a comprehensive array of dental social media marketing services customized to your goals and needs. We know how to make it work for your dental practice, so you see results. Getting started is simple—give us a call today at (800) 227-2513 or email VivioSites here.
Need help with your dental practice's online reputation or getting better rankings through dental SEO? We can help.